All I can say is YUM. These were so good and pretty easy. I am definitely not a chef by any means but since I've gotten married, I've had more of a desire to actually cook real meals (as opposed to eating panini's and cereal every night). Sooo, if I can successfully make this, you can too!
Shopping List
8 lasagna noodles (don't buy the no boil kind for this, they will be too stiff)
14 oz shredded mozzarella cheese
1/3 cup shredded Parmesan cheese
3/4 cup ricotta cheese (I used skim)
4 medium sized tomatoes
1 jar plain marinara sauce
1 large egg (will only be using the white, not the yolk)
Basil and pepper (I'm lazy and use store-bought from Costco, but fresh would work too!)
Parchment paper
Directions
1) Boil water and cook your 8 noodles al dente as directed by the package.
2) While noodles are cooking, prepare your cheese mixture. In a large mixing bowl, whisk the ricotta cheese and the egg white until well blended. Stir in the parmesan cheese and 12 oz of your mozzarella cheese (set aside the other 2 oz of mozzarella). Season the cheese mixture with black pepper.
3) Chop up your 4 tomatoes into thin slices.
4) Once your pasta is finished cooking, drain noodles.
5) At this point, preheat your oven to 350 degrees.
6) Arrange noodles laid out flat onto the parchment paper. Place about 1/3 cup of your cheese mixture onto each noodle and spread evenly across the noodle. Then place 3 or 4 slices of a tomato across your noodle on top of the cheese mixture. Garnish with basil.
7) Pour 1/4 of your jar of marinara sauce to coat the bottom of a 9 x 13 pan.
8) Roll up each noodle and place into the pan on top of the sauce, SEAM SIDE DOWN (important). After each noodle is placed in the pan, pour the remaining 3/4 jar of marinara sauce over the lasagna rolls. Make sure to cover the edges of each roll so they don't dry up while cooking. Sprinkle your remaining 2 oz of mozzarella cheese on top.
9) Place your lasagna rolls in the preheated oven and bake for 30 minutes.
10) Remove from oven. I like to let the rolls sit and cool in the pan for about 5 minutes so everything isn't so runny when I transfer to plates. After on your dinner plate, garnish with some more basil.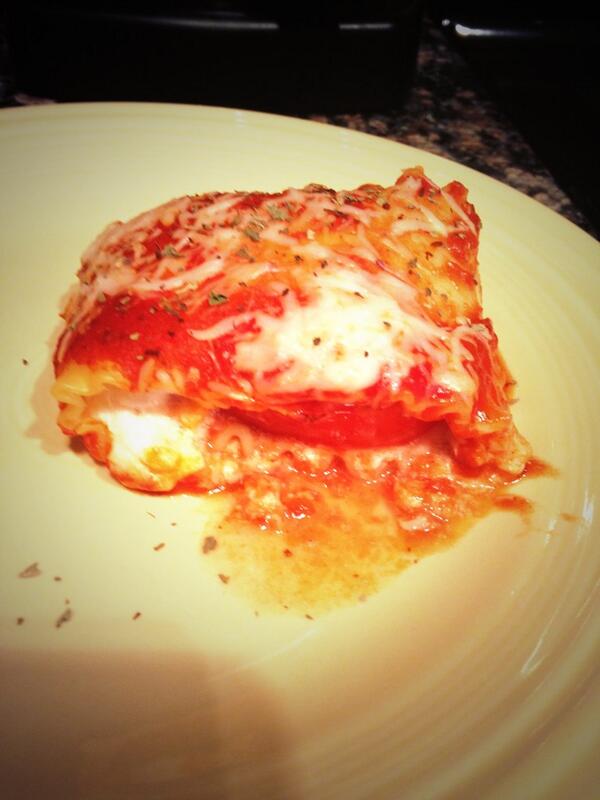 Everyone will loooove these! They are such a fresh take on a lasagna dinner. Enjoy!
5